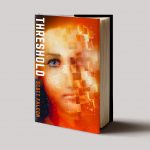 On September 9th, 2020, the complete first edition of my technothriller, THRESHOLD, was published.
The final first edition should state "First Edition 2.0" on the copyright page at the beginning of the book. This edition also includes an appendix as bonus material.
Before September 9th, readers had access to a free beta reader copy before final editing. The reviewers of the novel that have criticized the editing, and rightly so, were reading a beta reader copy, not the final first edition. Again, the complete novel must say First Edition 2.0.
Thousands of reviews have downloaded the beta copy, and I am appreciative. Some of the five-star reviews included comments such as "an amazing book", "the best book I have read in years", "scary", and "prophetic."
If you have downloaded a copy of the novel before September 9th, you have a beta. Please discard and download the final version. It is available on Amazon, also on Apple Books, Google Play, Kobo, Barnes and Noble, and other book sites around the world. The ebook will remain free for a period of time to allow early/beta readers to acquire the final version at no cost.
In addition, the novel is available in paperback and hardcover here on Amazon and in book stores. You may have to order it on your favorite book store's website if it is not in stock in their brick and mortar store.
Thank you and remember: In 2040, technology stops working… all of it.