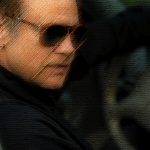 Scott Falcon writes cutting-edge, character-driven thrillers.
Psychological Thriller: CELERITY: A mediocre college track athlete ingests a rare plant extract and becomes the fastest woman in history—and the first to play in the NFL.
Political Thriller: AMERICAN MUTT. A maverick journalist with a black hole past uncovers an invisible cabal bent on destroying American sovereignty. Five-star reviews, the novel rose to the Top 100 in American Literature on Amazon within weeks of release, and to the Top 10 in Political Thrillers.
Technothriller: THRESHOLD. In 2040 technology stops working. All of it—except a mutant AI. Five-star reviews, the epic novel hit #1 in Hard Science Fiction and #3 in Technothrillers on Amazon. It also made 14 other bestseller lists.
Scott's fourth novel, TIDEFALL, has been completed. Publishing details will be announced on this site. Scott is an avid outdoorsman and conservation advocate. He remains in hiding in Ventura, California, although sightings have been reported, but not confirmed in Yosemite and Big Sur. 
Learn more at ScottFalcon.com
Fan Page: ScottFalcon.com/fan
Facebook.com/ScottFalconAuthor
Goodreads.com/author/show/19936574.Scott_Falcon
Scott is a member/sponsor of the following organizations:
Fragments of Hope
Sea Shepard Conservation Society 
Wild Oceans
World Wildlife Fund 
GreenPeace
International Anti Poaching Foundation
Wounded Warrior Project
Learn more about the conversation organizations that Scott's supports, HERE.
Get updates about Scott Falcon novels here.
Write to Scott Falcon: 675 E. Santa Clara Street #21, Ventura CA 93002