The following is an excerpt from an interview of Scott Falcon in the book website ManyBooks, featured in a number of publications including The Guardian, USAToday, Lifehacker and The Huffington Post.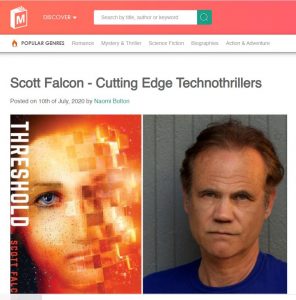 Debuting in 2020, Scott Falcon is a new American author writing cutting edge novels in different thriller genres. Scott is an avid outdoorsman, a conservation advocate, and is a member/sponsor of Wild Oceans, World Wildlife Fund, The Sierra Club, Greenpeace, International Anti Poaching Foundation, and The Sea Shepard Conversation Society. Scott lives in Ventura, California. His technothriller, Threshold, was very well received. All five-star reviews, the epic novel hit #1 in Hard Science Fiction and #3 in Technothrillers on Amazon. It also made 14 other Bestseller lists. As our Author of the Day, he tells us all about Threshold.
Please give us a short introduction to what Threshold is about.
Threshold takes place at a time in the near future when technologists are on the brink of creating an SIAI, a Super Intelligent Artificial Intelligence, also known as the singularity. It is an AI that is truly self-aware. As you might guess, things do not go well.
What inspired you to write about a world where all technology stops working, except for AI?
The power of a true singularity is unknowable, both good and bad, and one possibility is that the AI does not want the competition.
Why did you set your story in 2040?
We are at the dawn of AI, we need a bit more time for the singularity to emerge.
Read the full interview here: ManyBooks Website